Type-C to SATA Adapter
29,08 €
EASY TO HANDLE, LIGHTWEIGHT AND DURABLE
Easy to handle, lightweight and durable 2.5" and 3.5" SATA storage access with latest USB 3.1 Gen 2 10Gb/s connectivity. Thanks to the adapter's hot plug functionality, you can easily swap your SSD/HDD without the need of building the drive into your desktop or laptop computer. Backing up, cloning, or even editing on the go is hassle free and efficient. With native SATA 3 speed support of up to 6Gb/s and its low latency, file transfers are reliable and lightning fast.
Võrdle
Kirjeldus
APPLICATION
Access and download recorded media of your SATA SSD/HDD used in recorders such as Blackmagic Design's HyperDeck Studio, HyperDeck Shuttle, Cinema Camera, URSA Mini, and URSA Mini Pro; ATOMOS Shogun, Ninja Blade, Ninja Assassin and Sumo; Sound Devices & Video Devices; and more.
Reformatting and cleaning SSD/HDD storage media
Back up your valuable data to an external SATA storage
Retrieve data stored on an old 2.5" and even access old 3.5" SATA drive by connecting additional 12V power
Access any 2.5" SSD/HDD with your latest USB 3.1 Gen 2 Type-C drive at full 6Gb/s SATA III speed
High speed data immigration or drive cloning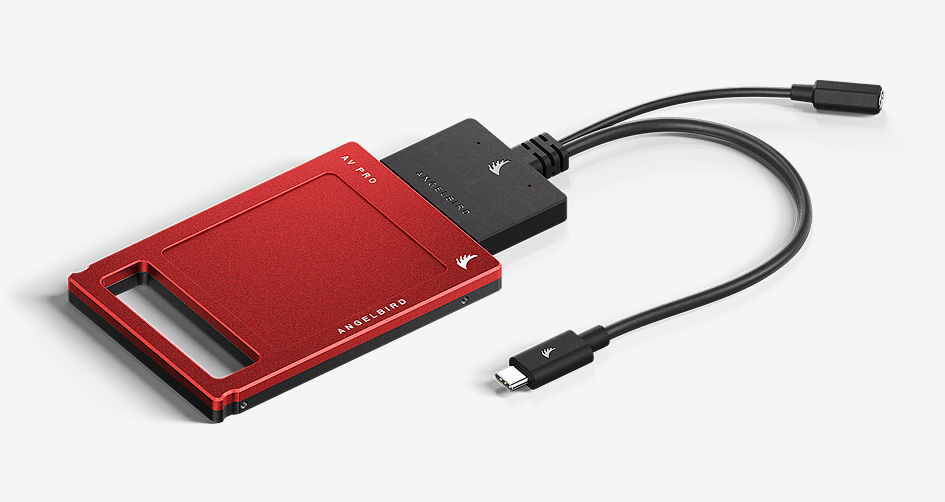 ---
FEATURES
USB-C to SATA 3, 6 Gb/s
USB-C 3.1 Gen 2, 10 Gb/s
Additional 12V Power for 3,5 HDD Powering

1
UASP Support
TRIM Support
Mac | iPadOS | Windows | Linux | Android
---
SPECIFICATIONS
Technical
HOST INTERFACEUSB 3.1 Gen 2, Type-C 10 Gb/s
DRIVE INTERFACESATA & Power combined receptacle (7+15 pin) connects to 2.5" and 3.5" SATA SSD/HDD
SUPPORTSSATA I, II, III (up to 6 Gb/s)
POWERUSB BUS power used to operate most SATA storage products
ADDITIONAL POWER
Additional 12V power can be used if power would be not enough to operate old 3.5" SATA products
1
UASPSupport for Mac | iPadOS | Win | Linux & Android to gain optimal and high performance throughput
TRIMSupport for Mac | iPadOS | Windows | Linux | Android
Warranty
2
Packagae
PACKAGE CONTENT1x USB 3.1 Gen 2 Type-C to SATA SSD/HDD adapter cable, registration code
Certifications
CE, FCC, RoHS
1
… 12V Power supply not included
2
… To receive the full limited warranty, the product needs to be registered on the Angelbird Personal Service Portal within 30 days after purchase. If not registered within this period, the market-specific legal guarantee period comes into force.
Lisainfo
| | |
| --- | --- |
| Weight | 0,04 kg |
| Dimensions | 240 × 160 × 8 mm |
| Brand | Angelbird |